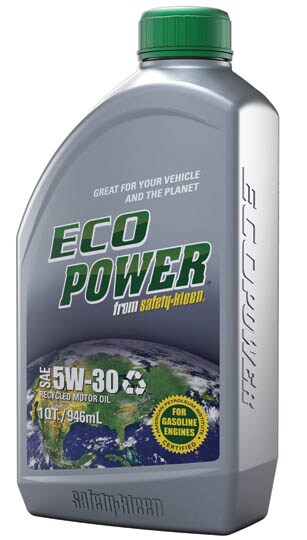 Why EcoPower?
Introducing EcoPower Recycled Motor Oil
GREAT FOR YOUR VEHICLE AND THE PLANET
Highest Quality Recycled
Exceptional purity and lubricating properties that are every bit as good as virgin, conventional base stocks
Advanced Synthetic Technology
Provides an extra measure of protection and performance under the most severe operating conditions
State-of-the-Art Performance Additives
Specially engineered to coat and protect metal surfaces and provide maximum protection against motor oil breakdown
Like the Leading Conventional Oils, Exceeds the Highest North
Improved Fuel Economy
Advanced Wear Protection for Increased Vehicle Life
Improved Oxidation and Sludge Resistance
Reduced Vehicle Emissions
Torture-Tested for Millions of Miles Under the Most
State Trooper Cruisers
Military Vehicles in Combat
Delivery Fleets
Emergency Vehicles
From the Leader in Oil Re-Refining
EcoPower is refined by Safety-Kleen, the largest re-refiner of used oil in North America.
Safety-Kleen's used oil re-refining process uses up to 85% less energy than the process to make virgin base stocks out of crude oil
Closing the recycling loop conserves valuable, non-renewable resources
Reduces greenhouse gas emissions by more than 80%
Reduces heavy metals emissions by 99.5%
Used oil is collected from oil change locations across the country and goes through a rigorous quality control process prior to re-refining. The Safety-Kleen closed-loop system significantly reduces greenhouse gases compared to the one-time energy created from burning used oil.
FAQ
What vehicles can use EcoPower?
EcoPower can be used wherever API SM oils are specified. Most OEMs specify the use of API SM motor oils for gasoline engines. But a few models specify a synthetic oil. Check your
vehicle owner's manual for the specific recommendation for your vehicle.
Which manufacturers approve using recycled motor oil?
We are not aware of any manufacturers who specifically disapprove of recycled oil. Manufacturer's approval is based on products meeting desired specifications, i.e. API SM and ILSAC GF-4. EcoPower exceeds these specifications.
Are virgin oil standards different than re-refined/recycled oil standards?
No. In fact, there is only one set of standards for lubricating base oil. Both virgin and re-refined products must meet the same standards. EcoPower exceeds these standards.
How long will recycled oil last?
Recycled oil lasts as long as regular oil. Petroleum base stocks never lose their lubricity. They become dirty from engine deposits and additives are depleted over time which causes the need for oil changes.
What is the re-refining process? Is the oil just cleaned? Is it chemically reformulated?
The process of refining used oil is the same as refining virgin crude oil. Both go through the basic processes, such as dehydration, vacuum distillation and hydro treating. At the conclusion of the re-refining process, the product is chemically altered in the same manner as a virgin product. The end product is identical and must meet the same specifications.
Which is better Castrol, Pennzoil, Mobil, Valvoline or EcoPower?
They all meet the same objective specifications: API SM and ILSAC GF-4. EcoPower takes 85% less energy to produce than products from crude oil. This manufacturing process reduces heavy metal emissions and greenhouse gases so it has less impact on the environment.
What about vegetable oils?
Vegetable and tallow-based oils have not met API specifications and typically cannot pass Sequence III A and G engine tests.
Can EcoPower be used in hybrid vehicles?
Most hybrids can use EcoPower. The gasoline internal combustion engine in a hybrid vehicle is the same as a regular vehicle's. EcoPower exceeds the highest North American standards for motor oil performance in gasoline engines. It can be used wherever API SM oils are specified. Follow the vehicle manufacturer's recommendations when selecting the grade of oil.
What if my vehicle requires synthetic oil? Can I use EcoPower?
EcoPower is not a synthetic. Follow the vehicle manufacturer's recommendations when selecting motor oil.